As we said before…
                                    …you just never know what you'll find in a planter!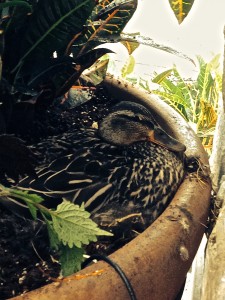 Imagine our surprise while doing the spring to summer change out at the Worship Center (this past year) to find the planter was already in use by another who had other plans for the space….Mama Mallard.  Not happy with our plans, she fussed, fumed, hissed, pecked and put up a major hurdle to summer arriving in her neighborhood.  Her clutch of eggs that we discovered were her whole world. 
Inspiring
.
So…it was time to add a step that normally does not occur during planting…..
the moment she hopped to the ground to attack our shoes we placed nest,
eggs and all into an empty nursery pot and quickly finished planting allowing a small cavity in the back to receive her nest.
                             …And it worked.
Checking back weeks later we discovered every egg hatched and she had moved her lil tribe on to bigger and better places.
Ahhh the Tudbink motto……"whatever it takes"