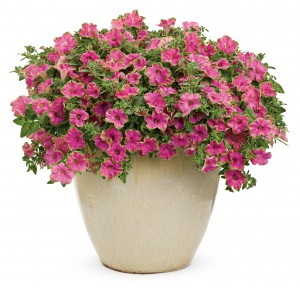 Sad but true… but it needs saying.
I nearly cut short this years top producing petunias life before it ever got to Tudbinks. Here's what happened…
Two years ago Proven Winners unleashed the most amazing petunia seen in recent times…  Pretty Much Picasso or as they would say in rural areas Purneer Picasso. All three growing locations for Proven Winners were sold out at the same time when it was introduced. No other variety of supertunia that we know of ever had that much demand. We reordered three times until it was gone. In 2012 we saw Picassos' kid brother and they called it Picasso in Pink.  I thought it looked like a disappointing sequel to a good movie. We almost didn't order it at all. Reluctantly, we got a tray and put together a few recipes and began to like what we saw. When we showed it on Facebook we got the impression that people didn't see it as another pink petunia.  The shot you see at the very top is of a planter that was made earlier in the season as part of a merchandising display. Not only does it show off it's preppy pink and lime green color combo but its most amazing feature is the tightness of its growth habit. This thing is so tightly wound that it looks like it's being held together with string. Thats what makes it my top pick for 2013 and makes the wheels turn thinking about all the places it can be used in 2014.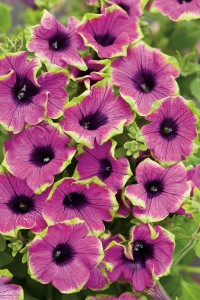 Pretty Much Picasso ——>