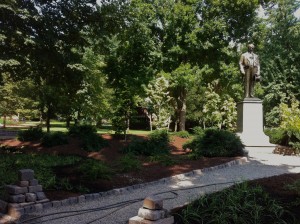 You've been there a hundred times, we all have… but it's amazing how we overlook some of our areas finest features such as this one.A long long time ago someone(we'll let you read the inscription for yourselves) dedicated a masterpiece sculpture of President James Buchanan. Well, as you know by now things are getting pretty lively in President Buchanans' neighborhood these days. With the recent launching of the cities first offical dog park, the president has been entertaining landscape designers, celebrities, and espically purina people who generously undewrote the project. What an honor it was for Tudbinks to give a new look to the presidential corner of Buchanan park. Dont' want to make it sound like you are on a tour, but when you visit make sure to take note of the following…. The massive blocks lining the path was restored by the city literally from the city streets during Clipper Stadiums excavation. Secondly, the yew bushes surrounding the statue are of unknown age, but we felt they made the perfect "garnish" for the bronze likeness, they just needed a tiny trim. And not only did we not remove them but used them as our anchor point to begin our entire design. Those are English yew(Taxus Bac. Repandens) just for your 'fo.
Finally did I mention that the statue is a likeness of James Buchanan? He became the 15th president of the United States and he was from Lancaster Pennsylvania. Not many cities in our great nation, or towns can say they were the home of a president of the United States. While opinions are plentiful about his proficincy as president…..the entire time that I was there one thing kept occuring to me…He was president, "Lets do this right."
Enjoy the traffic President Buchanan.