Here is a story that will melt away these frigid temperatures we have been enduring…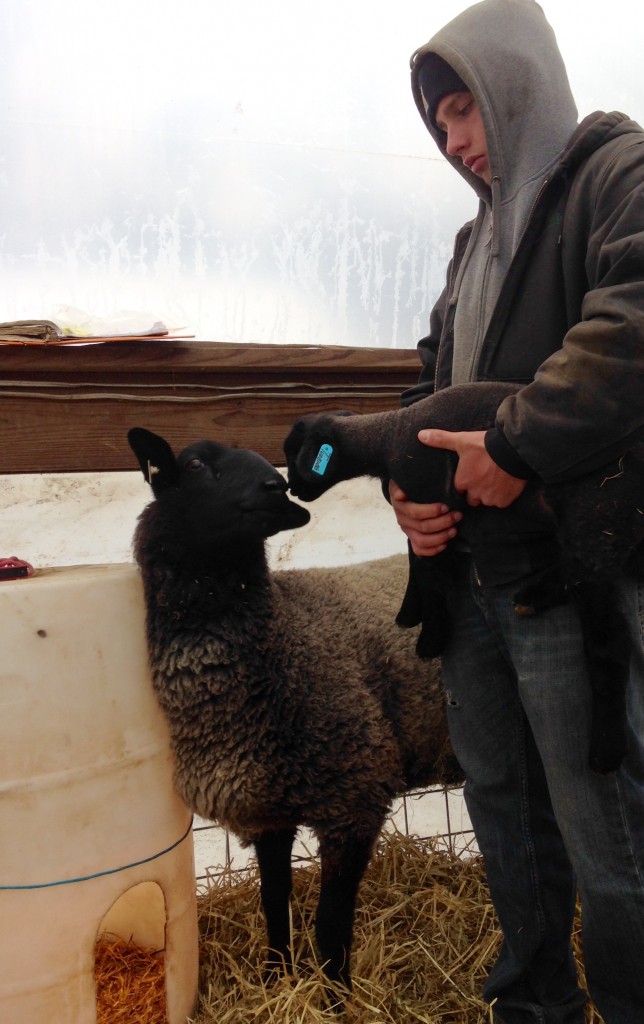 These two found great difficulty in the late night hours of the lambing barn and yet pulled together to give each other what they needed so badly. The lamb was born last Sunday morning and became chilled when his mom could not get him cleaned off fast enough as she was attending his twin. By evening he had fallen behind in the wake of being a bit slow to feed as the weather outside prepared itself for the coldest night in 100 years. His core temperature had fallen and only one thing became evident, he needed to get to the wood stove at the house and be comforted by the concerned licks of the resident Golden Retrievers.
While ram lamb #5011 tried to regain his strength back from cruel hypothermia, another rescue was in progress in the barn. Tudbinks' Tomahawk daughter #3002 was in labor but this was not going to end well. Full term, she gave birth to a stillborn lamb horribly disfigured by CVV. Months before when conception occurred, #3002 was bitten by a random mosquito carrier of this devastating disease. Sometimes the pregnancy fails and sometimes the lamb continues to develop in spite of severe with defects. No treatment or prevention is possible for this situation and it is eventually fatal. Shepherding is a hard business and decisions must be made on the fly that tears your heart out….but there is no time to waste. Lambs must be taken from their mothers in spite of her cries of protest to regain life giving warmth. Sadly, for #3002 the lamb needs to be taken to keep her from wearing herself out trying to get a dead lamb to stand and nurse. The bawls of protest are roaring as loudly in the barn as the winter gale outside.
Shepherding also requires good records and a better memory to make the right decision when things look grim. As lamb #5011 returned to the barn, warm and carrying a belly full of tube fed milk replacer, he also brought doubts as to wether his mom would be able to start producing enough milk for he and his brother. Inspiration struck when it came apparent that we had a lamb in need and here, without her newborn lamb stood one of the members of the legendary line of ewes at Tudbinks, the Tomahawk daughters.
Getting a ewe to receive a lamb that is not her own requires an advanced shepherding skill set as sheep mothers are designed to protect their own lambs from imposter lambs bent on stealing milk. Only by drenching the lamb to be adopted in the amniotic fluid from a discharged afterbirth, then and only then, does the mom assigned to the adoption feel comfortable with the arrangement. In spite of best intentions and efforts sometimes the adoption fails as the mother violently wants this intruder out of her pen, so strong is their sense of smell and identification. Not the Tomahawks. So strong is their desire to be a mom, that over and over again they reqire only one thing, "give me the lamb, I got this." On this fateful night, history repeated itself as she pushed and consoled her new ward and had him nursing in just a few moments.
I am often asked, "why do you have the sheep and work so hard with them, aren't they stupid?"
I keep my answer brief because few could understand if I told them that I see in them a nobility that I find inspiring.
Like people, they can be hard to help, and even resist our best intentions vigorously.
And about the "stupid" thing, again, like people, I have found that usually they are just scared, so their actions appear to not make sense. Sound familiar?
-Van