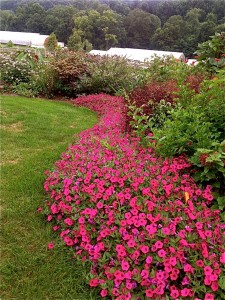 Do you see anything wrong with this picture? You should. While we do not feel we are the best perennial gardeners in the world, we would like to think though that our gardens hold their own each year.
However, one thing needs to be made clear, IT IS NOT LOW MAINTENANCE to grow perennials, nor are they less work then an annual garden. Perennials have their moment, and after they bloom, there's a whole lot of cleaning to do. Clean-up factor aside, at least every other year, most require moving and/or  dividing in order to retain some semblance of order…otherwise  certain varieties will begin to take over the bed… As you can see the bee balm is doing in the background here.
The most important thing that I want to point out is the color. That's a row of vista fuschia petunias in the foreground. Big color all season long and they never quit.  Achieving this look is a three step process. Plant them, fertilize them, and tear them out at the end of the season. And here's a news flash, the empty bed that's left behind for winter doesn't look any different then the perennial bed. It's winter.