Everyone who is in business is always thinking about how they can attract more people. Well, here's one way that we try… May not be for everybody, but hey, it worked!
Several years back a certain driver of a skidloader (no names mentioned) was moving some mighty big bushes and was quite glad that no one was parked in his travel path. However, on the return trip with bushes bristling out of the skidloader that now looked like a duck blind…. someone did park on the farm driveway.
A few moments later it looked like bushes, skidloader, and embarrassed driver was parked inside their Volvo station wagon. What do people say when you tell them, "I just caved in the back if your car?" Actually, nothing. Long awkward silence. Stunned looks. Standing side by side surveying their car.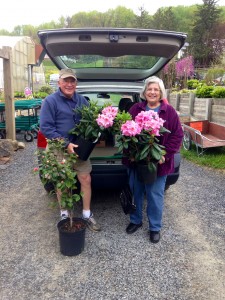 After we got the mess cleaned up, insurance papers worked through… We all looked at each other and said, "We'll never see them again."
Wow were we wrong.
They've been back every year since, usually multiple times. They still like us, they still trust us, and they don't even bother telling us where their car is parked. Go figure.