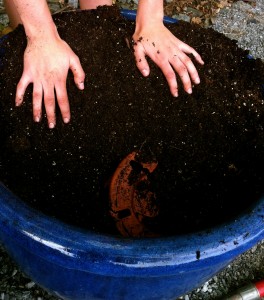 You just never know what you're gonna find in the bottom of some peoples' planters.
Todays body of the week was upside down, left over tiny planters.  Last month, Turkey Hill iced tea containers.  The perennial favorite is styrofoam peanuts.  Or, as you can see, no buried treasure.
Soo, why do people do this…behaving squirrel-like burying  these things away…reasons vary-
Drainage
Weight
Or because their Aunt Mable said so.
Tudbinks tidbit hint of the week: fill your planter with our potting soil, from top to bottom, maximizing your root room, and water storage capabilities to new levels.  You'll be glad you did…use the trash can for the other stuff.