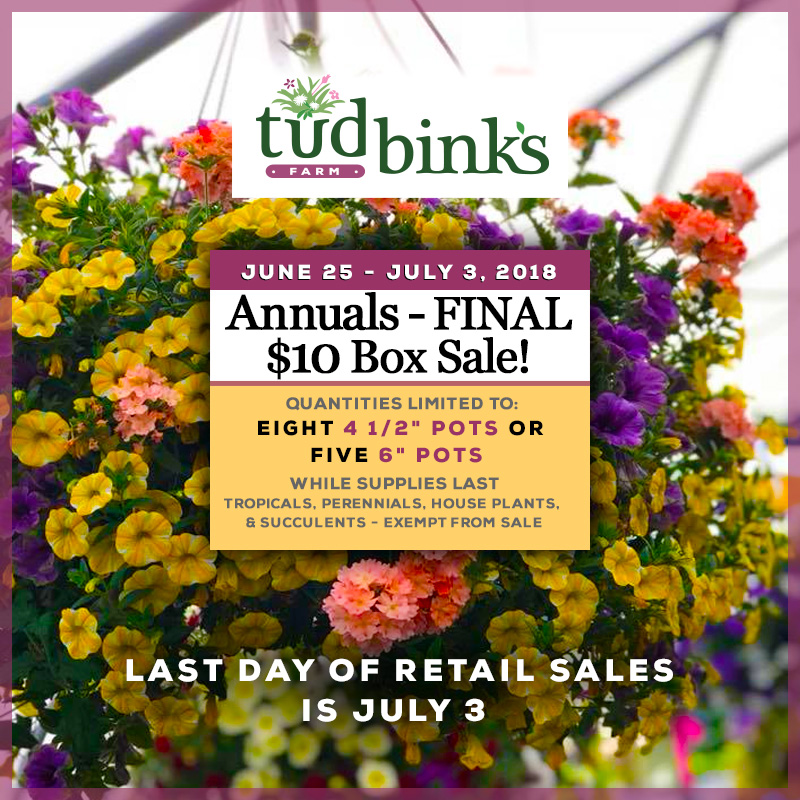 Get your Coupon for our FINAL $10 Box of ANNUALS Sale!
Our retail season ends with a burst of color!
Quantity limited to:
Eight 4 1/2" pots/box or
Five 6″ count pots/box,
While supplies last.
Begins July 25 and ends July 3, 2018.
Tropical, perennials, house plants, and succulents are exempt from sale.
Enjoy Independence Day week outdoors with beautiful and fragrant flowering plants.
What to do by 4th of July.
Do your final pinching of tall growing fall bloomers like asters, chrysanthemum, monarda and helianthus, to make them stockier and full of flower buds, and so they don't bloom too early.
If any of your hanging basket plants have become leggy or misshapen, simply trim the excess off – this will encourage bushy growth. Continue to fertilize.
Keep up on deadheading your annuals encourage continued flowering.
Remember when you are watering your landscape investment, long slow waterings are always best.
Regarding mosquitoes, the best way to keep populations down is by regularly checking your property for standing water and emptying it. Even a saucer of water can become a mosquito nursery, so leave no pot unturned!