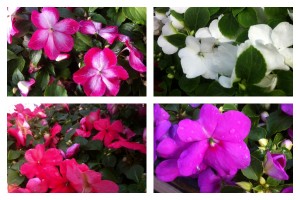 Remember that scene in the movie It's A Wonderful Life where George Bailey tells the townspeople,
"We gotta keep our heads in this situation…"
And on that day, the cooler head prevailed.
Tudbinks thinks that day has come again but this time for the noble impatien.  We're getting the impression chatting with all of you that you really are afraid to plant them.  We think you should give them a chance.  On a bloom to dollar ratio, they've been the shade champion for decades.  Even if they can provide you with half a season of color, they're still a great value. We're not saying you shouldn't have a backup plan, but try planting your impatiens along with your backup plan and see what happens….and we will help
Spend $25 and we will give you a flat of some of the best impatiens we've ever raised.
Be sure to drop us a line and let us know the outcome of this test plot going on everywhere.  And by the way, our heat elite series can handle a half day of sun…no problem. Use the Elfins for morning sun and shade.