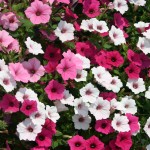 Every year we have people ask what the best soil is.  We've tried so many we've given up trying to remember.  One day a customer came up wih quite a comcept. "What do you guys use?"
That did it.  The  only soil you'll find at Tudbinks is our own…
Thats right, the same soil:
Growing our baskets

Growing our pots
Growing Lancaster containers everywhere
Van trusts it so much he signed his name to it.  You'll find his sig. on each one of our 1 cubic foot bags.  In fact, if you get here by the end of April, you can get a 1cu. ft. bag free with your purchase over $20…Simply mention that you read it on the Tudbink blog when you check out.