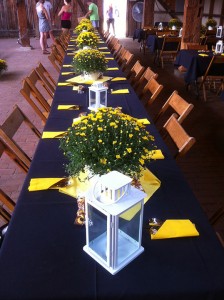 You plan, we plant.
Everywhere and anywhere, in anything with anything. Long range or right now; and make it work. We have provided customized hanging baskets and planters to match bridesmaids' dress colors to transforming stark concrete pads into a lush oasis of vegetative comfort for funeral receptions. Our customized containers can transform any location to provide that over-the-top look.
In addition, our containers have graced:
Lancaster Symphony Salutes at Franklin and Marshall
Longs Park Craft Fair
York's Strand Theater
No need to purchase, our rental program includes delivery, set up, and prompt pick up after the event is over.
You don't touch a thing… Just enjoy!
Tudbink's Does Weddings!