Just as basic as plants need water, Tudbink's need irrigation and so do their customers.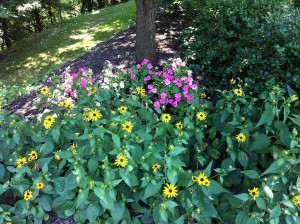 As the growing challenges came our way, so did the solutions to apply the right amount of critical moisture. With consistent moisture most accounts see their growing efforts rewarded in dramatic fashion. Whether its personalized coaching over a basket purchased at the greenhouse or installing an invisible system in concrete sidewalks to handle planters at a mall. Watering is our specialty.
Why is Tudbink irrigation different?
Almost invisible; plants get center stage.
Metered; we calculate for the size container, type of plants and exposure.
Affordable; in fact if you are a four season account we will cover 50% of the installment.
Even at full price, our systems usually pay for themselves by the second year.