Here is the first review of new Featured Proven Winners for 2017
You always wished you could plant King Tut in your planter, but it was too big for your area. A special welcome to …. Prince Tut.
A nicely compact form of Egyptian Papyrus, about half the height of King Tut, but with the same large poms on the ends of the stems. Fun and interesting, without being so overwhelmingly huge. With shorter stems than King Tut, Prince Tut is quite sturdy and less likely to have stems flop.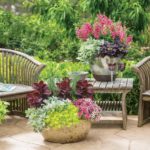 Be inspired with the Proven Winner Gardener's Idea Book – Sign up for your copy at the Proven Winners website today!
Visit our greenhouses at Tudbinks to see all the latest new varieties for 2017.