Taming the Kraken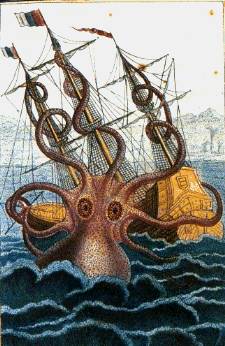 Given one big wall…One big plainness. A jillion cars driving by and only 3 feet of planting space.  We knew right away it was a job for a prickly performer called Mohave Pyrecantha.
Year one we let it run and allowed it to be a little bushy but still pretty in orange.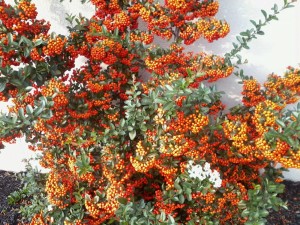 Year two we set about trimming it to the desired shape. Any shape would have been striking but we chose random over a geometric pattern.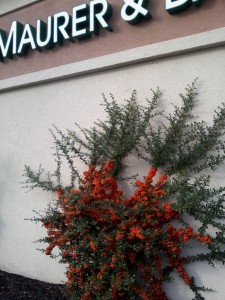 Always thirsty, the baby Kraken bloomed and fruited profusely with a single run of trickle irrigation.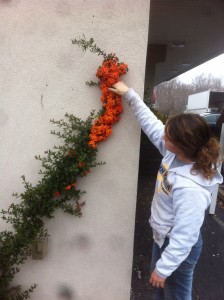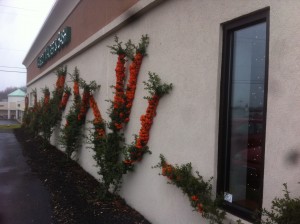 Caulked moly eye bolts hold the beastie to the correct position. Each year we redirect the tentacles to stay within the right boundaries but allowing a new twist.
Stay tuned and watch it grow.
What is this called? 
This type of pruning is called espalier pruning. Pyracantha, with its fast growth rate and arching growth habit is a good choice for an espalier shrub. Espalier refers to a method of training a shrub to grow in two dimensions-height and width- against a support framwork. Once you start your pyracantha espalier, continue to bend and tie the limbs every few months as your plant grows. Remove unwanted sprouts, removing new growth in late summer so that the berries are more visible, and remove any side shoots that do not conform to the espalier pattern.
Not as difficult to achieve as it may seem at first glance…resulting in a beautiful specimen for years to come……try it for yourself! You might just like it.